Singelkerk
The Singelkerk is a church of the Baptist congregation in Amsterdam, located between the Singel and the Herengracht. It is a so-called hidden church, a church that is not recognizable as a church on the outside.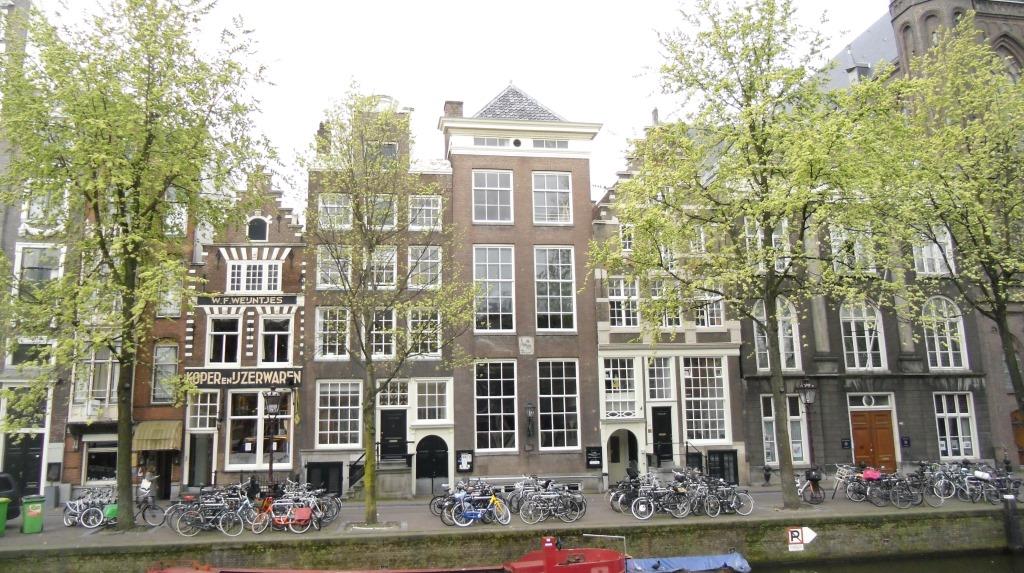 From about 1530, meetings of Mennonites took place in Amsterdam in private homes. At that time they were not yet allowed to erect their own church buildings. After the Mennonites were tolerated from the beginning of the 17th century, they were able to occupy their first church buildings of their own.
The Singelkerk came into existence in 1607 when a property along the Singel was purchased by Harmen Hendriksz. Van Warendorp. He had a barn built on it, intended as a meeting place for the Flemish Mennonites. The place was named "Bij het lam" (near the lamb) after the facade stone of the building a few plots away, a brewery with a lamb in the facade.
The barn was replaced by a larger church in 1639, the size of the current church building. This new building moved a bit more toward the Herengracht. In 1839, a major renovation replaced the roof, giving the building the shape it still has today. The facade on the Herengracht also dates from this time. Initially, the semicircular doors at Singel 454 were the entrance to the church. Gradually several extensions followed. Singel 452 was added to the complex. The room for the church council, the library and the catechism and meeting rooms were located here.
How to reach the Singelkerk?
The Singelkerk at Herengracht 431 can be reached by:
From Amsterdam Airport Schiphol
 
By train:
Take the train to Amsterdam CS (Central Station). The Singelkerk is about 20 minutes walk from Amsterdam CS. You can also use the trams (streetcars).
By tram (streetcar)
Take streetcar 2 or 12 get off at the Koningsplein stop. At the Koningsplein stop after the bridge over the Singel continue to the next canal – the Herengracht – turn right and then after about 50 meters is No. 431 – a small square. One can also get off at the stop Keizersgracht in the Leidsestraat and walk from there in the direction of the streetcar to the Herengracht and go, across the bridge, to the left, No. 431 on the right.
By car
Approaching Amsterdam on the A4 motorway, take the A10 motorway ring road and exit at S109 (Amsterdam-Rivierenbuurt).
Singelkerk
Herengracht 431
Amsterdam, the Netherlands